Day 5: Rome to Pisa: Along the Italian Coast

I dragged my body out of bed and headed down to the station to catch a train to Pisa. Having never used the Italian rail system, I didn't quite know what to expect, but it was very straightforward with their FastTicket automated system, and, after a quick whip of the ole credit card, I got myself a ticket. Then I wondered around Termini till I finally found the right train and settled in.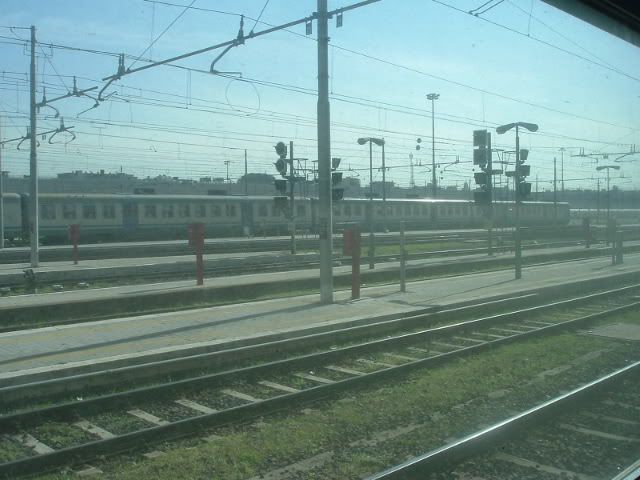 The ride was very pleasant with the gorgeous Italian landscape in the shining Italian sun. Trains here are quite nice, and the conductors very forgiving to ignorant American tourists (I knew neither that we were supposed to validate tickts on the platform nor that we had assigned seats). I had some bread and cheese I had gotten from the grocery store for lunch and watched as the Mediterranean Coast sped by.

When we arrived in Pisa, I took a peek at the map and headed north from the station to where the legendary Leaning Tower stood. Construction began in 1173, and the lean was already evident when they finished the third story in 1274. What amazes me is that they continued building for seventy-five more years, in what must have been a display of either masterful prediction of tourism or extreme stubborness. Either way, it is definitely a sight to behold.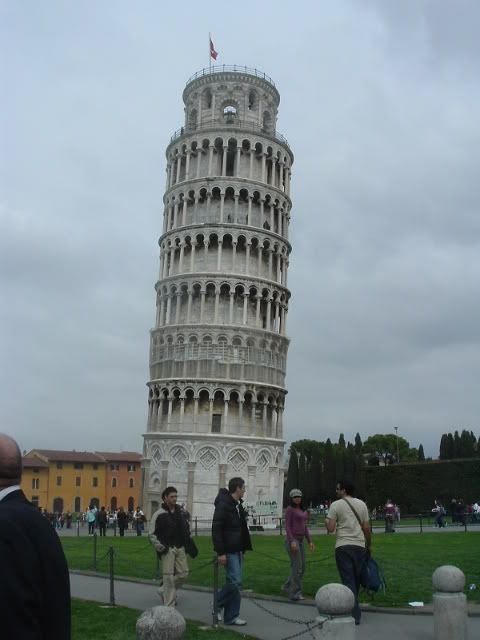 It's crazy! It looks like there's nothing holding it up and that there's no reason it shouldn't fall down any second and crush the visitor's center.

What everyone also seems to fail to mention is that the tower is just one part of the Campo dei Miracoli, which is the church complex. There's also a big baptistry and cathedral.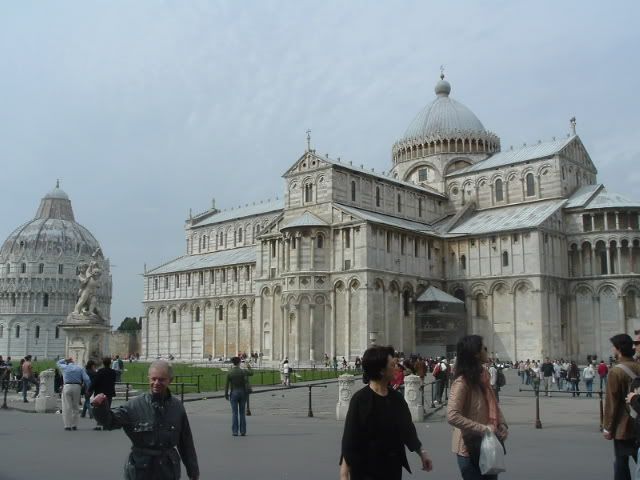 And, boy howdy, it was crowded with tourists and peddlers.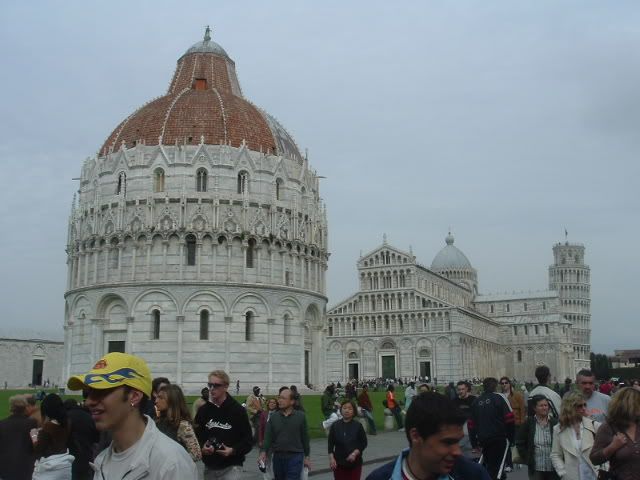 After checking out the tower and looking at a better map, I headed west to the campsite where I had a room booked in a little camp house. The pictures on the internet made it look quite cozy. What they didn't show was that it was in the middle of a big industrial complex and one had to walk down a long creepy tunnel under the traintracks to get there. Actually, though, it was a very nice place and reasonably priced.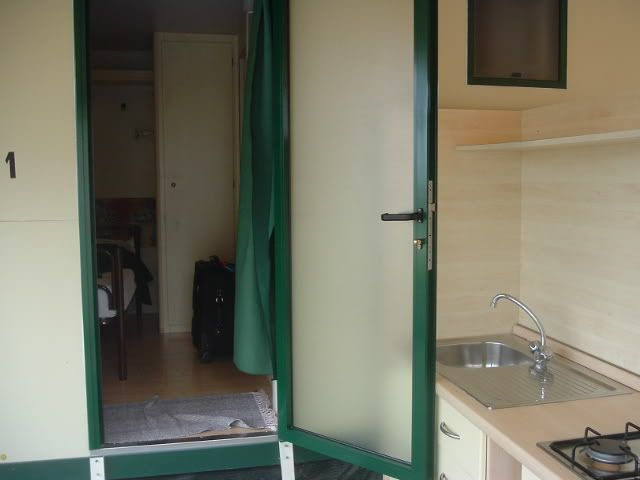 I'm pretty sure the heater was broken, but it was sweet to have a nice, hot shower of my own after having to share a bathroom with 12 guys in Rome.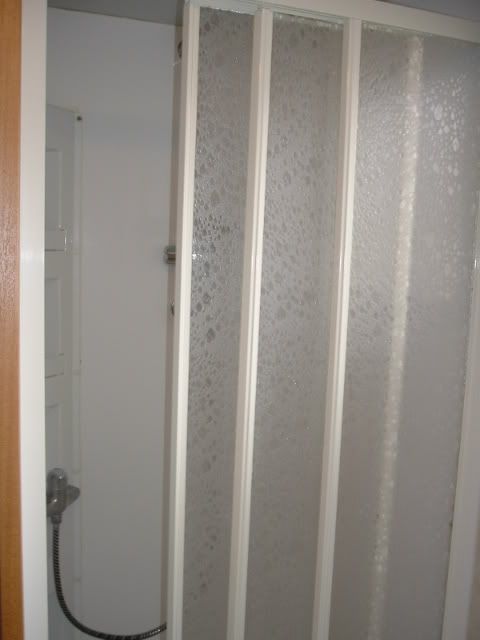 Having dropped off my bags, I headed back into the heart of Pisa to see what there was to see. First I checked the opposite side of the Campo dei Miracoli, trying to catch an angle where the Tower looked straight up. It's still impressive, but not exactly a tourism magnet. Maybe it was genius to leave it leaning.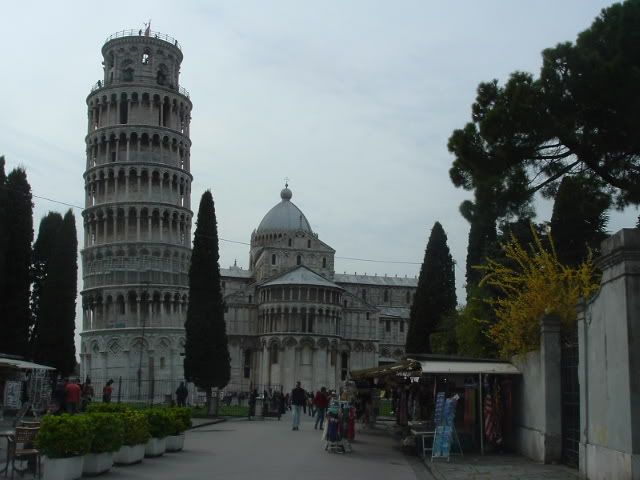 From there, I wandered aimlessly, checking out things like courtyards...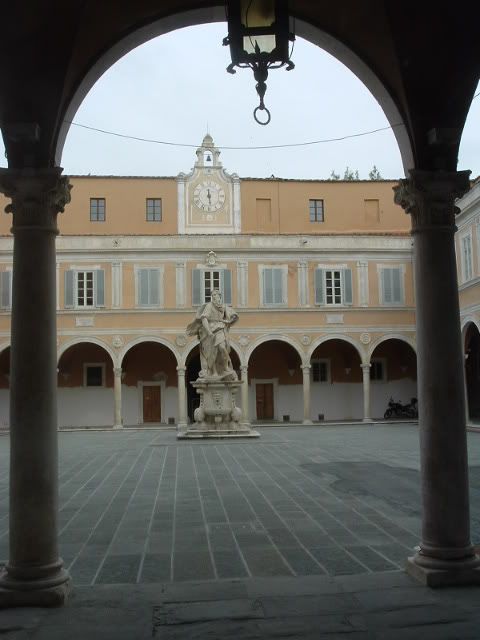 ...churches...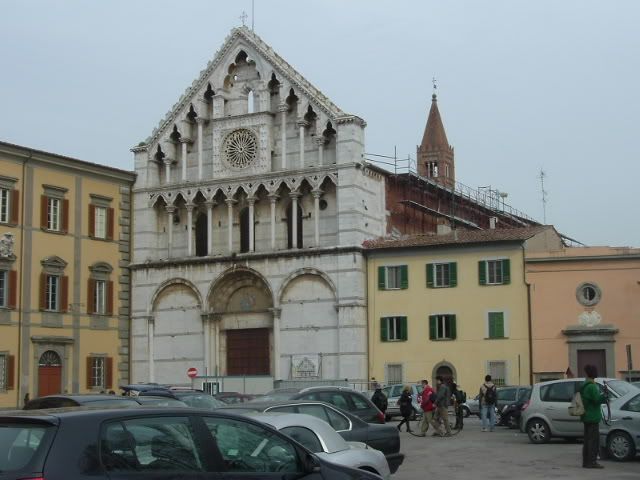 ...park statues of Leopold I...




...random statues of mathematicians...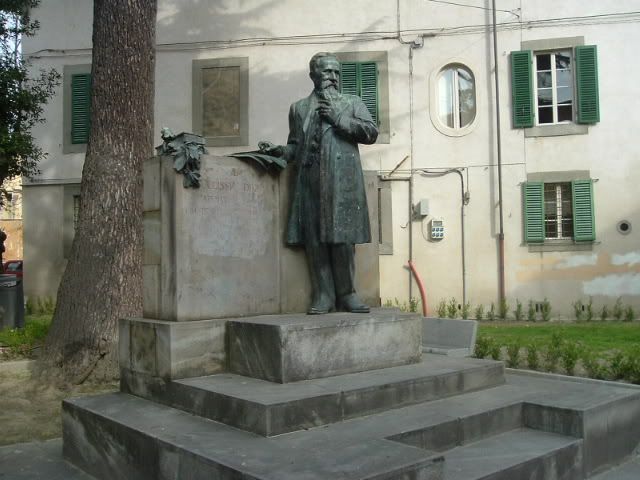 ...human rights rallies...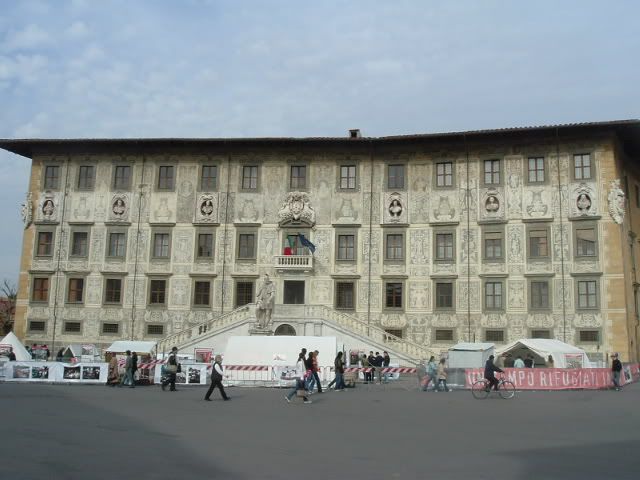 ...and Santa Maria della Spina, where legend has it that St. Paul first set foot in Italy on his way to trial in Rome.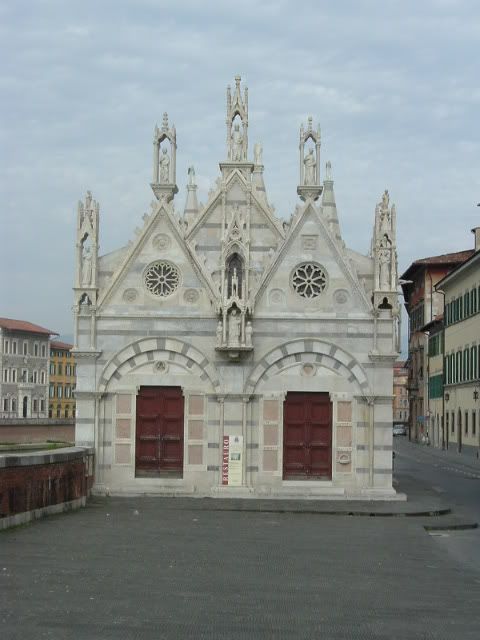 One of the first things I noticed about Pisa was its peculiar smell, and I wonder if the city has poor drainage because the Arno is stuffed with all the trash from up-river. Still, it's prettier than the Tiber.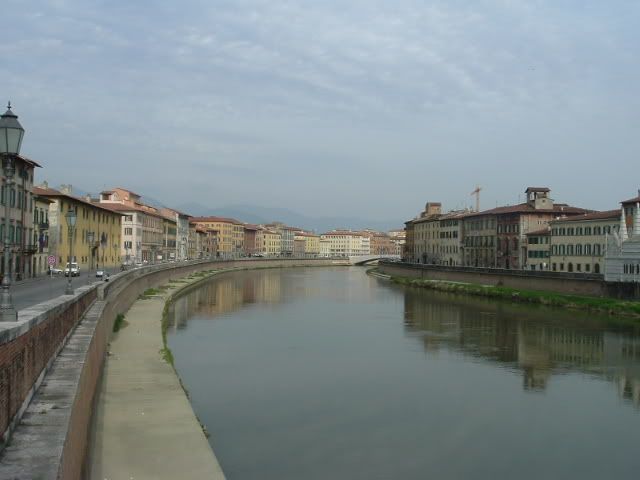 With such a nice river and small-town feel (well, 100,000 compared to Rome's 2.5 million), Pisa is a nice city.




After hanging around the river for a while, I headed back to the Campo dei Miracoli. The sun was coming out after a mostly cloudy day, and I wanted to check out the intricate carvings on the facade of the cathedral.




Actually, no, I think it was just an excuse to lounge around on the grass with the rest of the tourists, Pisans, and students of U Pisa. (Did you know Pisa is a college-town? I didn't.)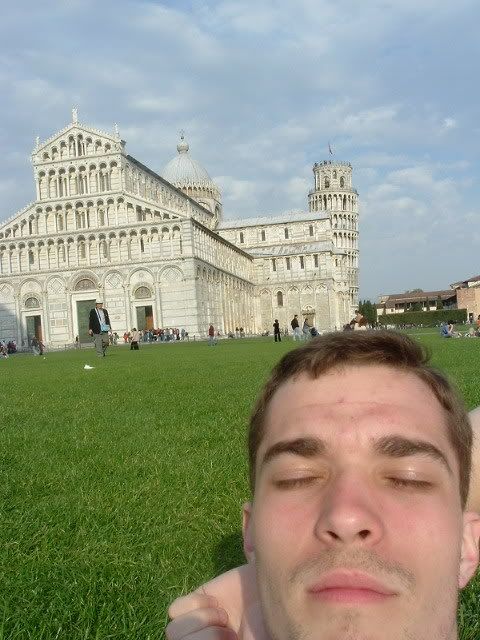 I laid around till the sun at last began to disappear behind thicker clouds and building tops. Worn out by travel and spending the past four days marching all over Rome, I settled for a quiet evening finishing my bread and cheese and reading guidebooks. It was cold at night, but it only made thawing out in shower the next morning feel that much better.

Day 6: Pizza in Pisa

Waking up early and chilled, I pulled myself together and headed out to check the museums around the tower before the crowds got too terrible. It was pretty expensive, but, eh, now I can say I've climbed the Leaning Tower. Going up is a crazy experience, since at times you're actually going downwards to get higher. I got some major vertigo, especially on the walk back down.

Inside, they have a plaque commemorating Galileo's legendary experiment of dropping cannonballs to prove gravity's constancy. One of my philosophy professors said it was poppycock, but, hey, can't argue with a plaque.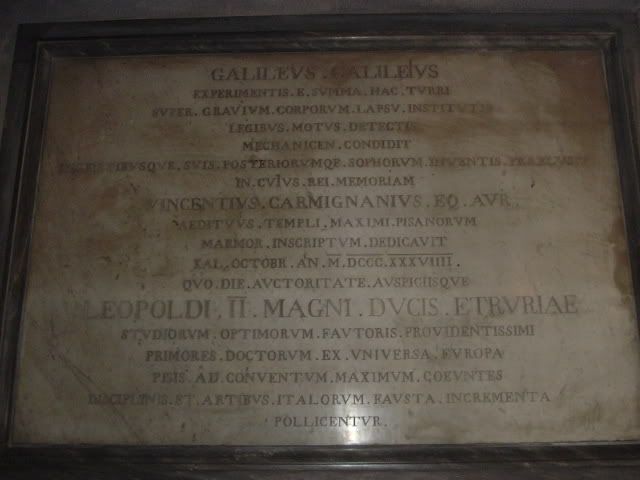 After a quick stop at the bells, you climb up just a little more to the top.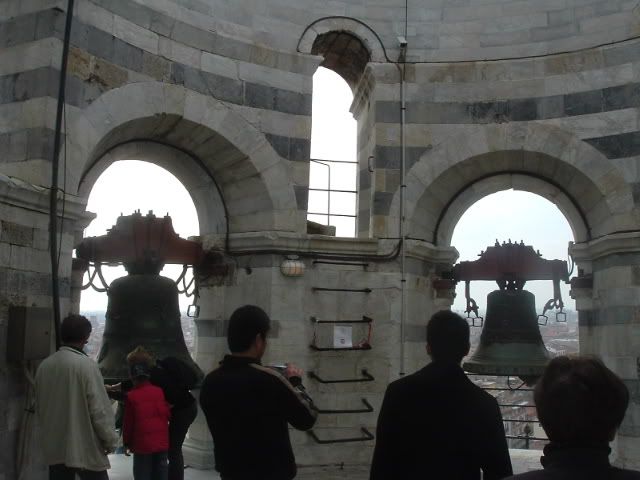 One gets a nice view of the city, like the big Pisa stadium.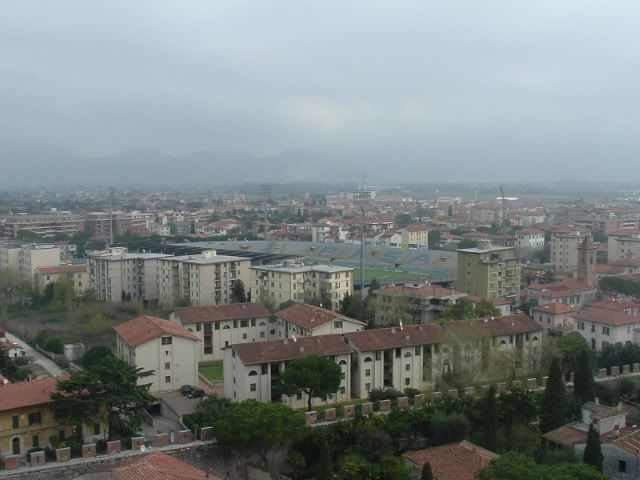 It was a little cloudy, but still a great experience. In the mists, you can barely see the mountains beyond.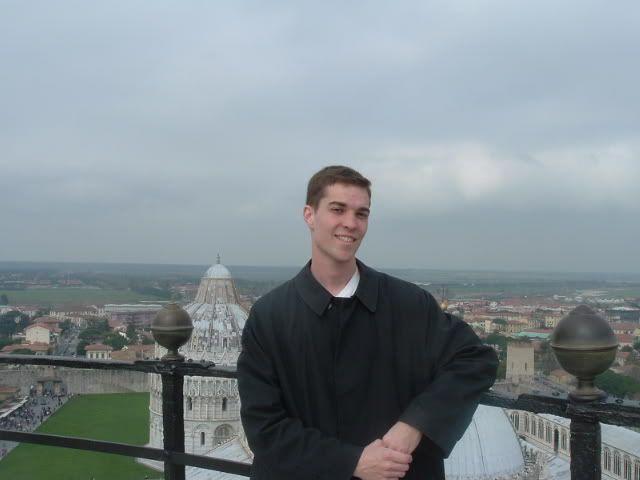 And for some reason, one of the Japanese girls from the tour group who went up at the same time I did wanted a picture with me. I was happy to oblige.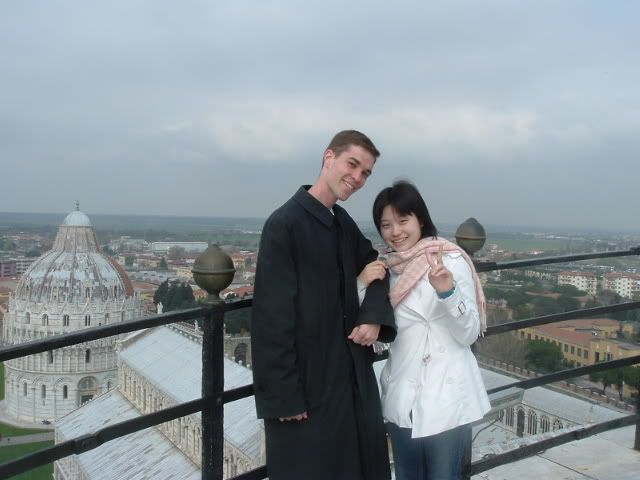 Climbing back down was indeed a weird feeling.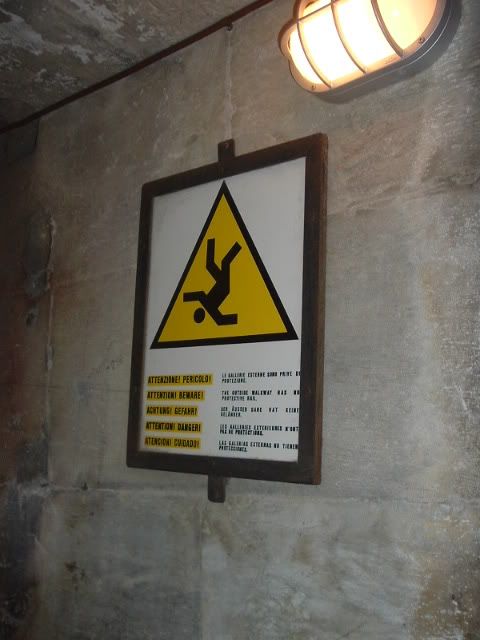 After the tower, I checked out the rest of the Campo. As it was Sunday, the cathedral was free (but no pictures, or the docents will clap at you angrily). I came back again and attended mass, which was indeed overwhelming with the rituals, paintings, and statues all bearing down on you. It was in Italian, so I missed most of it, but I did pick out "mundo" and "vito" from what must've been John 3:16.

From there I went to the baptistry, which was dark and cold. There were beautiful things inside, but my tastes had been so heightened by the other beautiful things I had seen that it was almost a disappointment.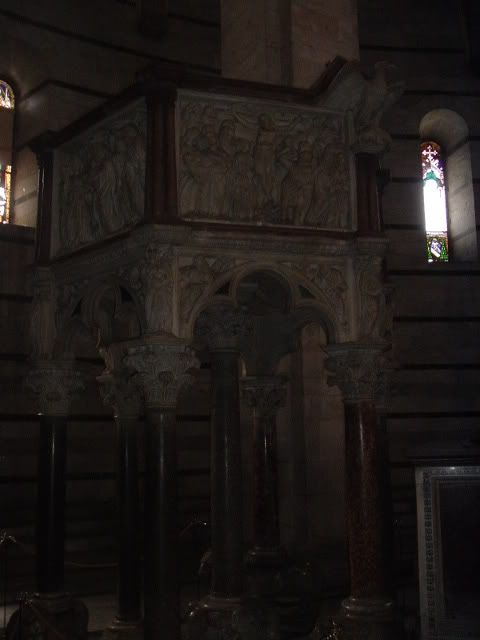 Then I went to the Campo Santo, which is the nearby cemetary packed with awesome, awesome monuments, like this one of the doors of eternity creaking open at death.




And none other than Fibonacci!




There was also a fresco room packed with the best painting I had seen since the Vatican. One was about the Plague, and you could see the angels and demons harvesting souls.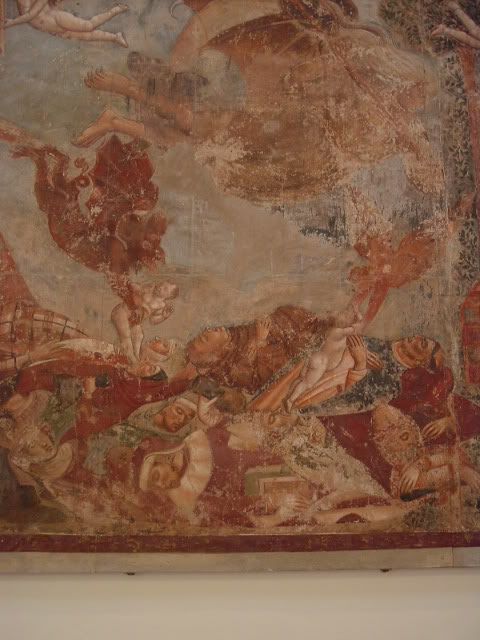 Best of all was that the sun came out while I was in the plaza in the middle.




With museums done, I got some pizza for food. Man, that was some good, good pizza. (Interesting side-story: I tried sneaking a sit-down to eat it in one of the open-air cafes. A waitress came by and asked what I wanted, so I figured I'd been caught and asked for a coke. My instincts told me just to run for it once she turned her back, but I stayed, hoping for the best. Instead, she wanted me to pay upwards of €5 for it, so I had to refuse and scurry off, leaving her in a bit of a huff.)

Anyway, after lunch I wandered a bit more, checking out the department of chemical engineering.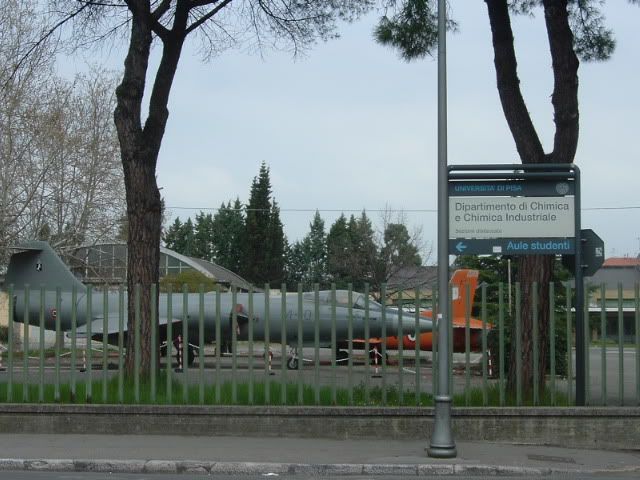 Finally I settled into having my daily gelato (I was careful not to get it from a place too near the tourists and made sure they used a flat scoop) and hanging out in the campo. The sun shone to make up for the cloudy morning, and I met with some British students who were doing exchange at Pisa. According to them, all Italian exams are oral, and you can repeat them as often as you want to get better grades. Weirded out.

Of course, just saying, "Oh, I think I'll spend today studying by the Leaning Tower" and then doing it is so foreign I couldn't get my mind around it.

The afternoon waned and disappeared, and I headed back to the campsite for another quiet evening. I wanted to get to bed early, because the next day I would jump onto the train once again to the famous, and often infamous, city of Florence.


Back to Jeff's Weblog