Day 12: Venice to Zurich: Coast to Mountaintops

Wanting to be back in Venice with plenty of time to catch my train, I got up with the cock's crow, checked out, and took a final busride to the Old Lady of the Mediterranean. I had a couple of hours to spare, so I walked from one side of the city at St. Apostoli, watching all the locals getting ready on the north side for a busy day. I considered getting another gelato, but nothing was open and I decided that it would be best not to reopen the door to ice-cream-addiction. Instead, I made another contribution to my hat collection with a Venetian gondolier's hat.

When it was time to be on the train, I pulled into the station and walked along till I found my seat. With a gasp and a giggle, I discovered the train had those nifty compartments, just like Harry Potter or an old Hitchcock movie! Actually, it was a very nice train, with comfortable seats, movable headrests, plenty of luggage space, and a good viewing window. For the first leg of the journey, I had the compartment all to myself, and I spent some time writing out a movie idea I had while walking the streets of Venice.




The Veneto plain was very beautiful and flat. It was kind of like if Oklahoma had trees, rain, and people. We stopped in a more famous cities like Padua, Verona, and Milan. By the time we got to Milan, the compartment was full with people traveling with their rowdy dogs, an old backpacker, and a Swiss businessguy who read Romani from La Bibbia on the way.

As we crossed into the Alps, my jaw once again dropped. Tim, my roommate from OSSM, had spent a summer in Switzerland and once told me that I had to go. He was definitely right. The mountains were gray and rocky, the forests were green and vibrant, and snow rested on the mountaintops. I got rather excited at the sight of snow, which I thought I hadn't seen much, but then reminded myself that I had been practically buried back in Istanbul during January.

The most staggering sight was the juxtaposition of such massive, impassable mountains with the green, flat, inviting valleys between them. Gradually, the architecture of towns shifted from mediterranean to alpine. I like alpine, though I'm not totally sure why. Maybe it's all the framing of brown around white walls, some with frescoes. I do like a good frame.

At last we arrived in Zurich, and I went over to the tourist office for some directions to my hostel. I had to catch a trolleycar, and, not having a city map, I was even more ignorant than most tourists. They closed and locked the door seconds before I got there, but I was lucky enough to catch one answering a question and get twenty seconds worth of directions, which was ample.

From there, I headed out to Brahnhof Platz, one of the main plazas of the city. They had a big nifty statue surrounded by trolley stops.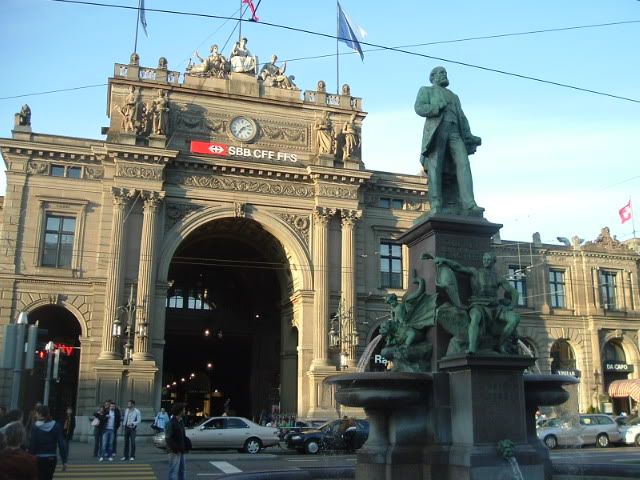 The plaza goes on into a pedestrian street filled with rich-people-type stores. Zurich struck me as a very nice city: clean, fairly efficient, remarkably flat for a city in the hills, and much better smelling. There's just something about that mountain air, I guess.




The trolleys are quick and kind of fun. The system may seem a little confusing at first, but once I got a good look at the map, everything fell into place quite easily. After getting to the right stop and getting some street directions, I found where I was to stay. At first, I thought it was a hospital.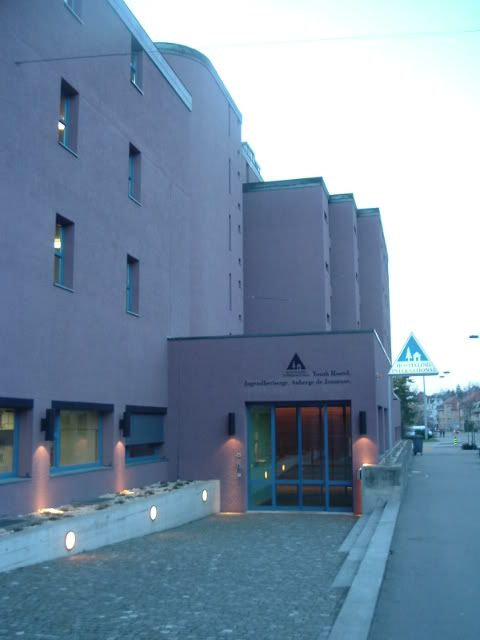 The hostel was very nice and very, very clean. Almost eerily clean. It was spacious and had a large range of people from little kids on school functions to older hikers telling us stories about how they were traveling after being in a coma for eight months and still being able to speak six languages.

As I was walking around the main room and grimacing at the charge per hour for internet access (the Swiss franc is only about 75 cents, but Zurich's still a big city with big-city prices), I suddenly saw a familiar face. Totally unplanned by either of us, I bumped into one of the other Americans studying abroad at Hertfordshire. He and a buddy of his studying in the north of England had been to Germany and were heading south as I was heading north, so we just happened to meet. The odds against such a thing are staggering, and it made for quite a pleasant surprise.

The three of us went out later to a place called Mellow Bar, which was indeed very mellow with slow Carribean music and only candlelight. After a night of discussing our European adventures, literature, politics, religion, and world economics, we retired to our rooms.


Day 13: Zurich: Heh, Umlauts

The next morning I was up and eager to get to the free breakfast. Mm, free. I stuffed myself with bread and yogurt and then headed out to see what Zurich had to offer.

What it had to offer was rain. Lots and lots of rain.

But, I had suffered through wet shoes before, and I figured I could do it again. For some reason, there were lots of grocery stores, too. I guess the Swiss like groceries. My first stop was back at the train station to get some suggestions of what to see. Much to my surprise, the station was hosting a city-wide foosball tournament.




How cool is that? They had dozens of tables and lots of players, from amateurs to guys who seriously knew what they were doing. I hung out for quite a while, watching games and comparing skills. But, I was running out of space on my camera, so I had to head over to the info office for directions to an internet cafe. Armed with a free map, I headed across the Limmat.




Internet was very costly, but you gotta do what you gotta do. I unloaded my pictures, tossed a few e-mails about, and then headed out. But not before catching a picture of the crazy keyboards with the 'z' and 'y' swapped.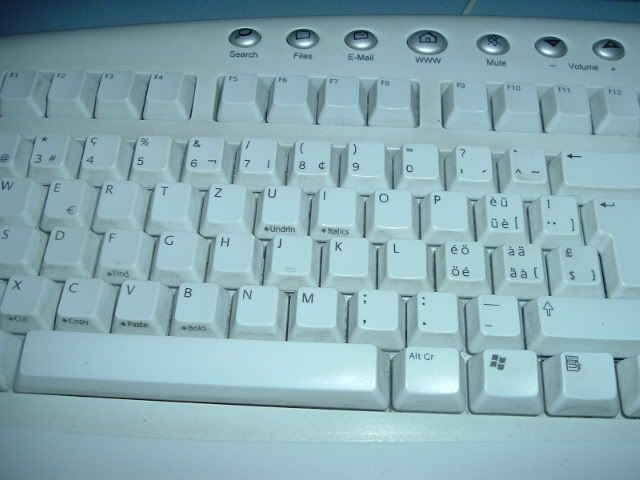 Once back on the street, I found that in addition to foosball, Zurich was also hosting a marathon. It was a cold and bitter day to be running two dozen kilometers.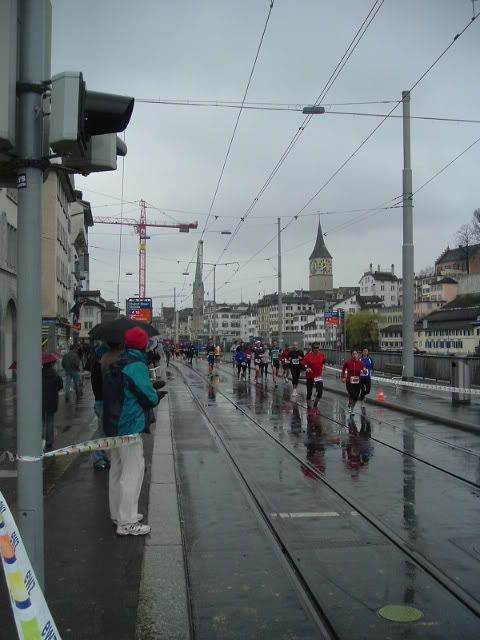 But, there were plenty of people out cheering for 'em, including an oompah band.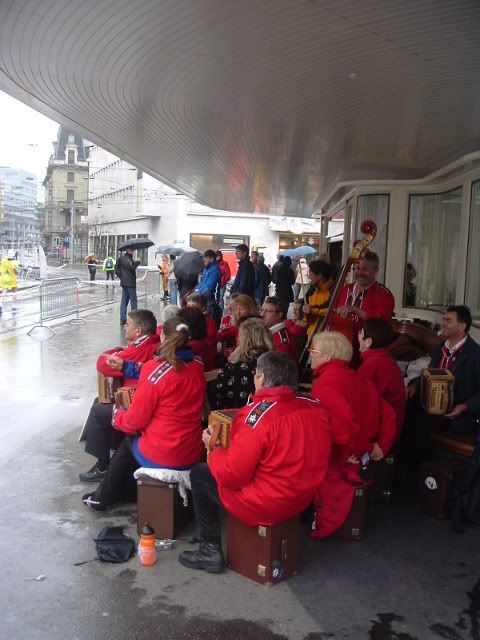 I walked aimlessly for a bit, checking my list and wondering what to see first. The 19th and early 20th century architecture was awesome enough to keep me interested.




I also saw something absolutely hilarious. "American fitness", now there's an oxymoron.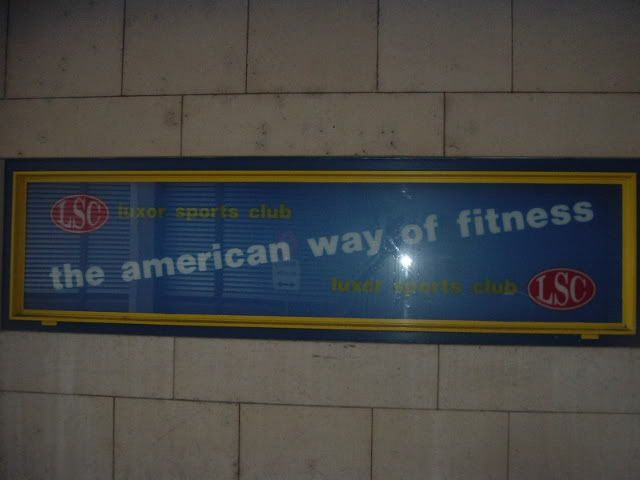 How about a river-front Zurich apartment? Mm, that'd be nice.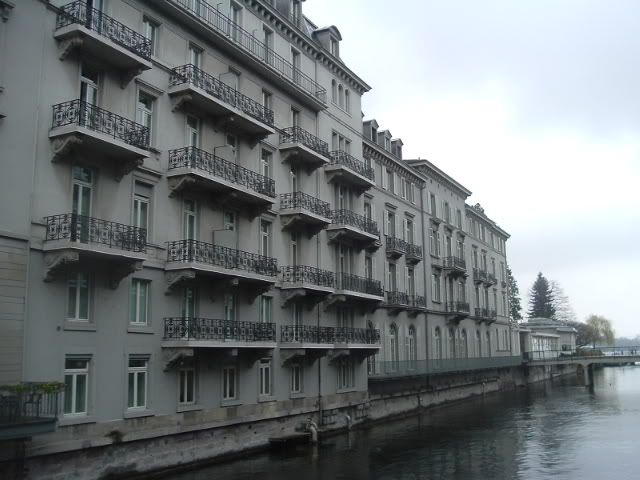 Down by the Zurichsee, there were lots of pleasure craft and miscellaneous boats. For some reason, there was also a statue of Ganymede.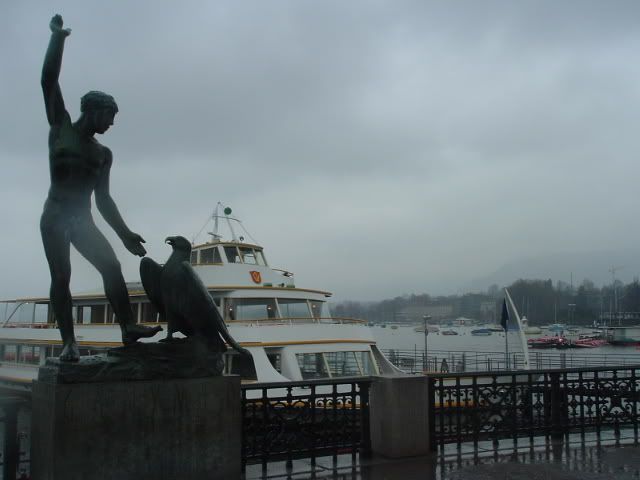 The marathon seemed like fun. Well, it might have been if it weren't totally miserable outside.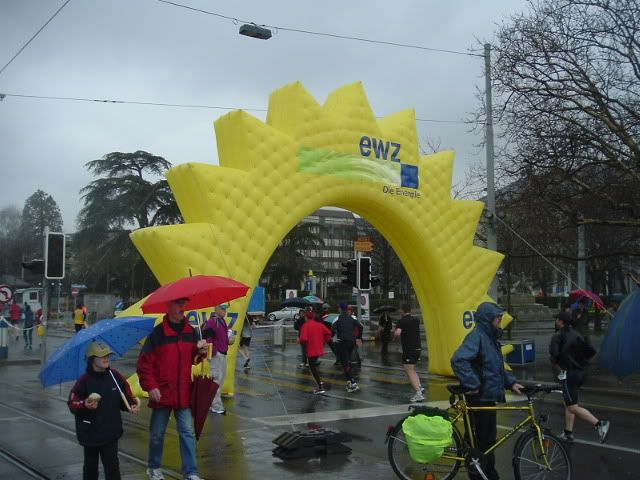 I guess it's my love of architecture and germanic tidiness, but I really liked Zurich despite the weather. It's just so charming.




When I decided I had seen enough of the city, I headed north to the Swiss National Museum just beyond the train station. I went underground to the massive mall-like area called Rail City, where shops, restaurants, and grocery stores seemed to fill the endless subterranean corridors.




The museum was awesome, especially since I knew almost nothing of Swiss history. The artifacts spanned from the early days of the Holy Roman Empire to breaking away into their own confederation and establishing their sense of neutrality in the Thirty Years War to the early twentieth century. They even had separate exhibits about knights and coinage. Plus, for some reason, a really cool wooly mammoth mock-up. Sadly, I didn't see anything about William Tell. They didn't allow pictures, either, so I only got the outside of the castle where it's held.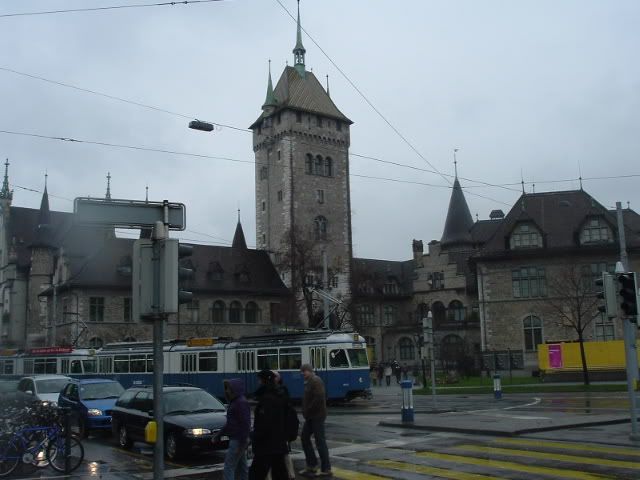 After I left the museum, everything seemed closed and my feet were cold and wrinkly, so I headed back to the hostel. But, even a walk through Zurich is fun.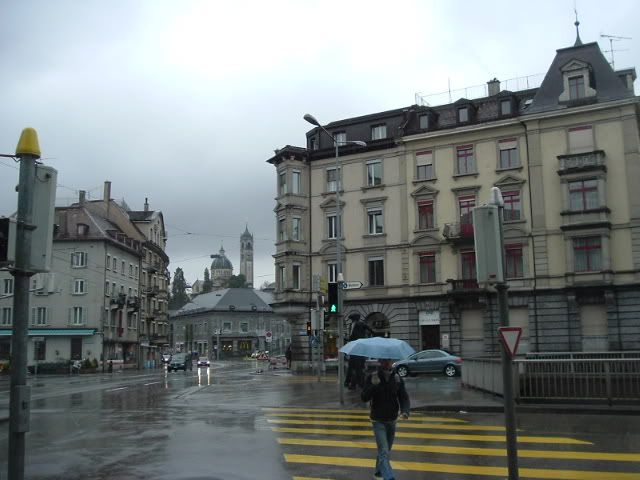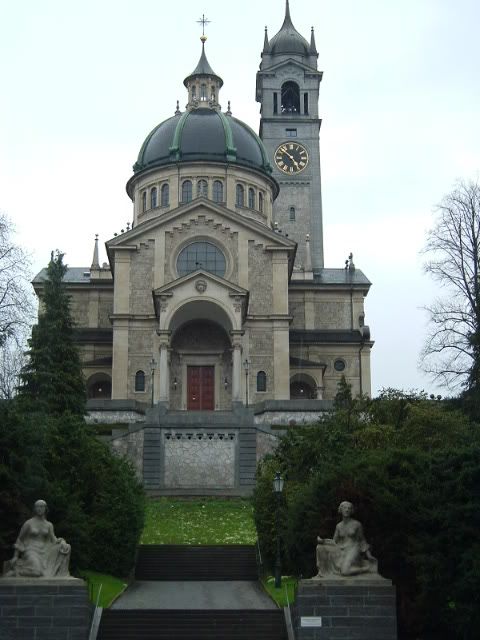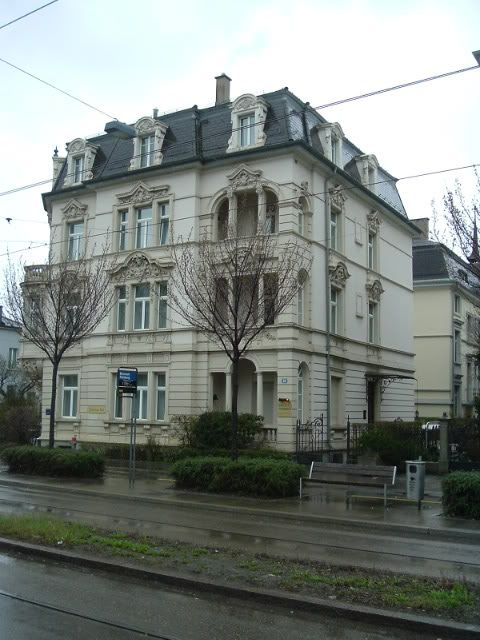 I spent the evening hanging around the hostel with my fellow Americans. It was pleasant and, more importantly, warm and dry. And, for some reason as indiscernible as that of the mammoth, they had a weird bear.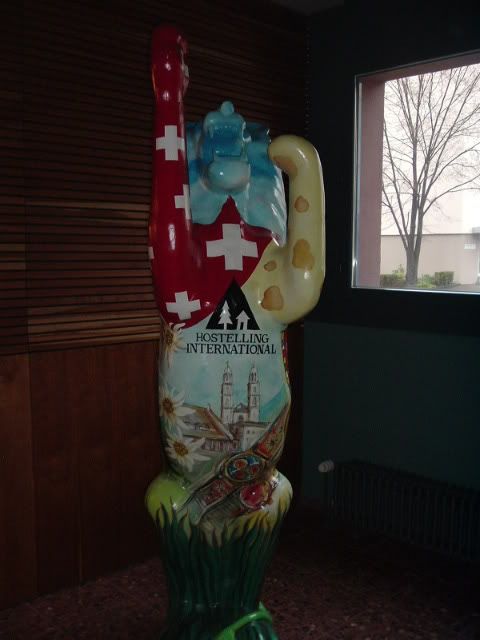 And here's me pretending to read a newspaper in German!




At least the sudoku made sense.


Day 14: Zurich: Another Day of Soggy Shoes

I slept fairly late and stuffed myself with free breakfast. If there's a better way to spend a morning, I'd be shocked to hear it.

The rain was still falling, though more lightly than the day before. Still, I was slow to get out in it and hung around in the hostel till boredom drove me out into the elements.




I mentioned about the whole grocery store thing, but it's nothing compared to the chocolate shops. Swiss chocolate is arguably the best in the world, but I'd figure one would go to a chocolate shop maybe once a month or a few people in there ordering for special occasions. But, no, every chocolatier I saw, which was quite a few, was packed. The Swiss love that chocolate. Mm, I can't blame 'em.

They also seem to love weird statues. This rhino was pretty cool.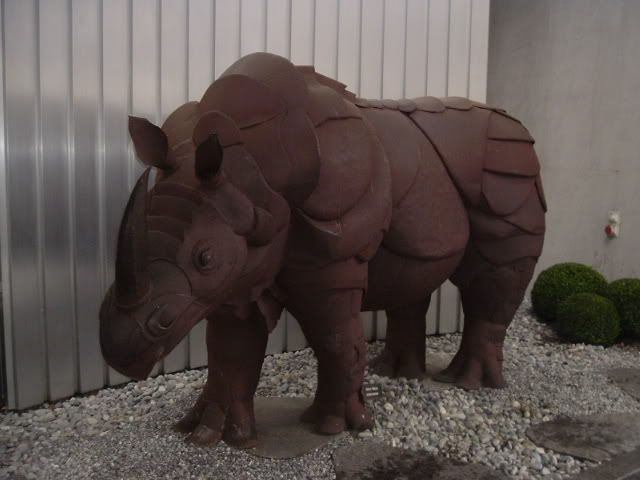 I headed down to City Hall, where they were doing an exhibit featuring works from an American cartoonist who had settled into a career of making jokes about life in Zurich.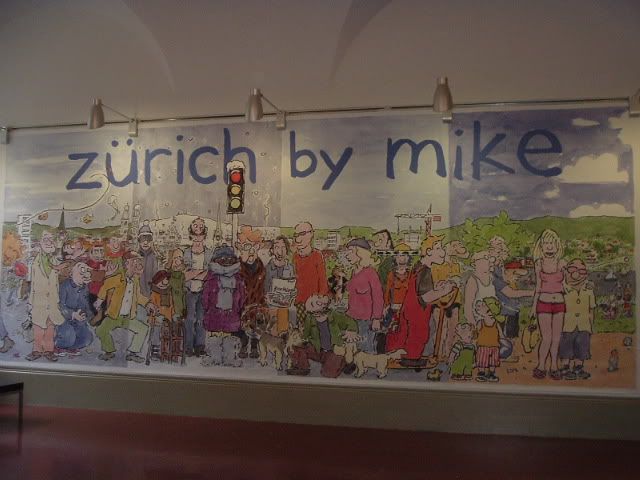 Despite the language barrier, I understood and laughed at the vast majority of the comics. Especially the one about the Swiss locals giving directions to some overwhelmed and confused American tourists.

City Hall itself was very pretty, too.




From there I walked across the river again, pausing to snap a picture of a building built into the river itself. That's one way to solve zoning problems.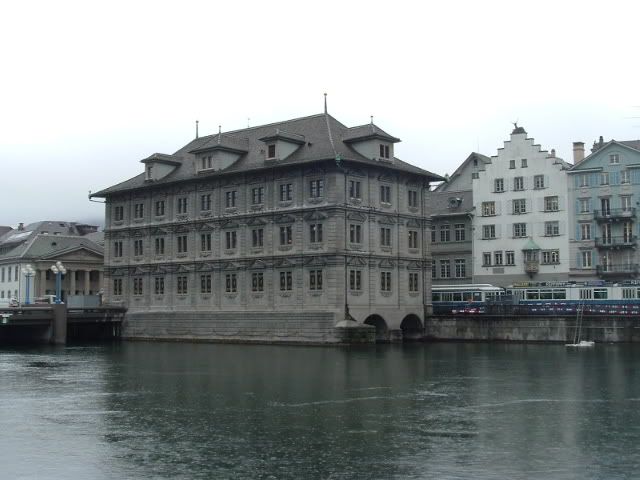 Zurich also has a lot of fountains. Nobody seemed to drink out of them like in Rome, but they were constantly running and I saw people collect the water for watering gardens and things. Come to think of it, why was that lady watering her garden in the rain...? Weirded out.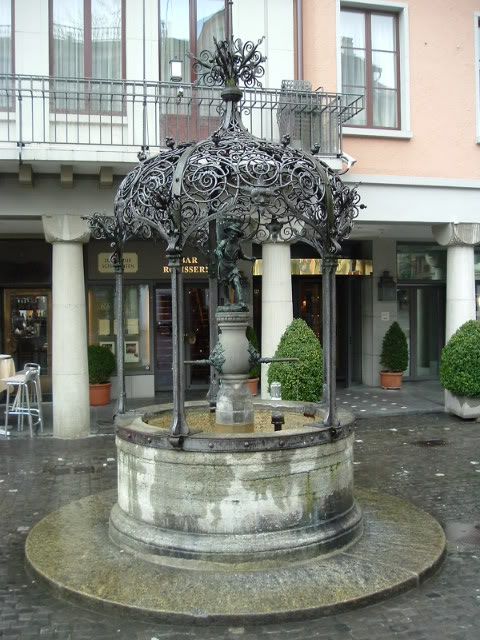 So then I ended up at the Central Library of Switzerland and got out of the rain. I saw plenty of University of Zurich students studying diligently and read a book by some English guy who listed the 100 best sci-fi & fantasy films. For a German-speaking library, there were a lot of English books.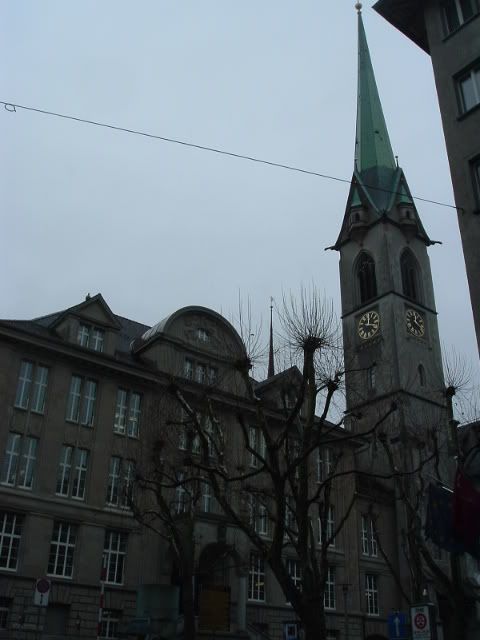 After that, I walked back toward the center of town to a giant toystore I had seen from the trolley. Like other giant toystores of its kind, the toys were freakishly expensive. On the other hand, they were high quality. I saw a line of toy knights that got a full two thumbs up from my careful examination.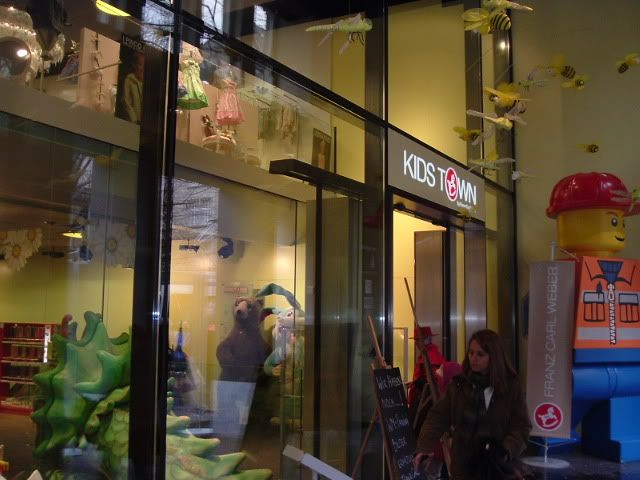 They also had a dragon that acted as a slide from the ground floor to the basement. One little girl was terrified at the idea of crawling into a giant lizard's mouth, despite her mother assuring her it would be fun.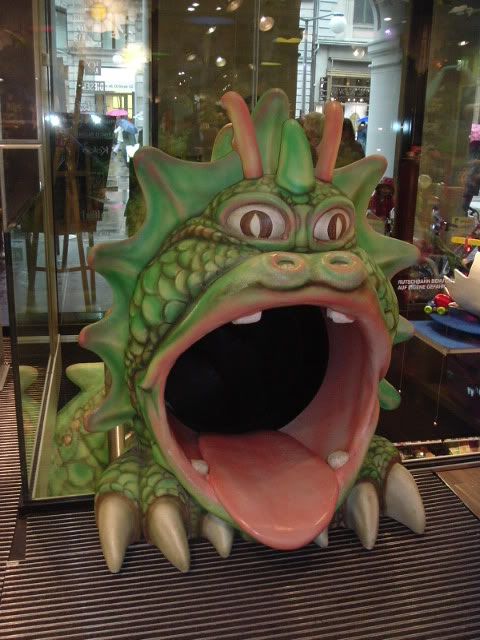 Not yet having my fill of toys, I went to the Zurcher Spielzeugmuseum, which had toys from the golden era before plastic made everything temporary. It was called "Forever Young", a fitting name since it turned everybody inside back to about 8 years old. They even had a few toys they displayed in play, such as a Czech spring-driven airplane on a balance so it flew in circles around the aerodrome.




The museum had case after case of cool toys. There were plenty of train sets and things in miniature, such as an 1880 miniature store for kids to practice being thriving merchants.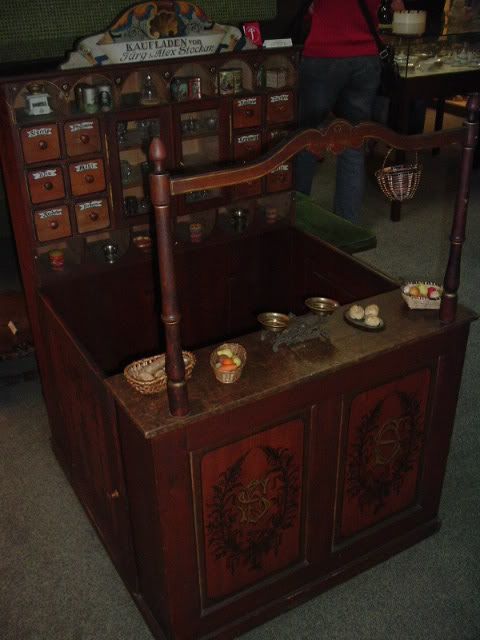 They also had lots of dolls and bears. This doll looked a lot like the china-headed dolls we have back on the farm.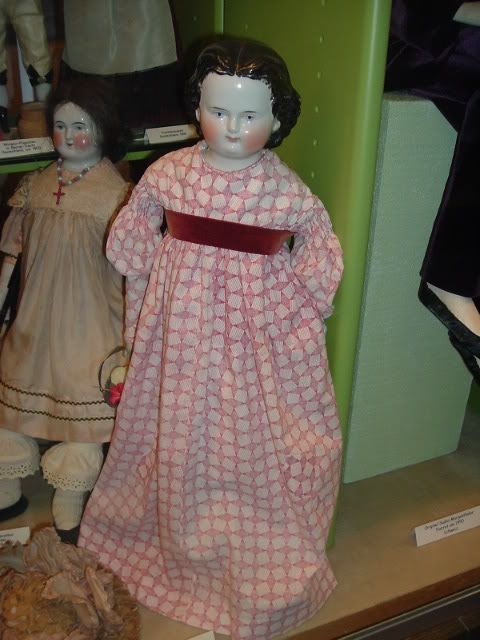 And I don't know what this bear is drinking, but he has a weird expression.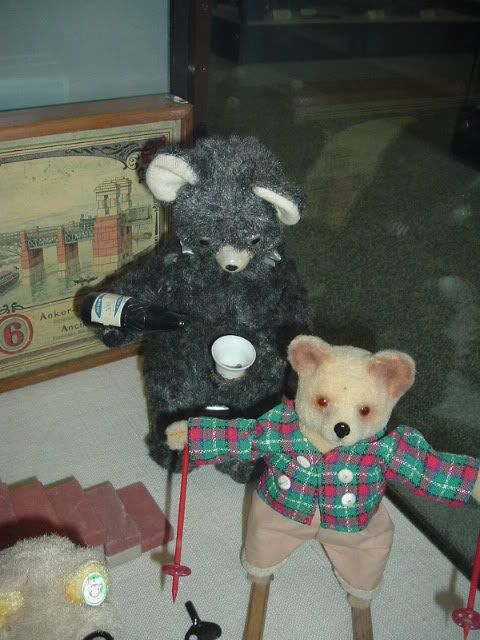 Best of all, they had a huge case of old magic lanterns and other technologically advanced toys. Really advantaged kids had these, just like those with nintendos in the '80s and kids with overpowered cell phones today.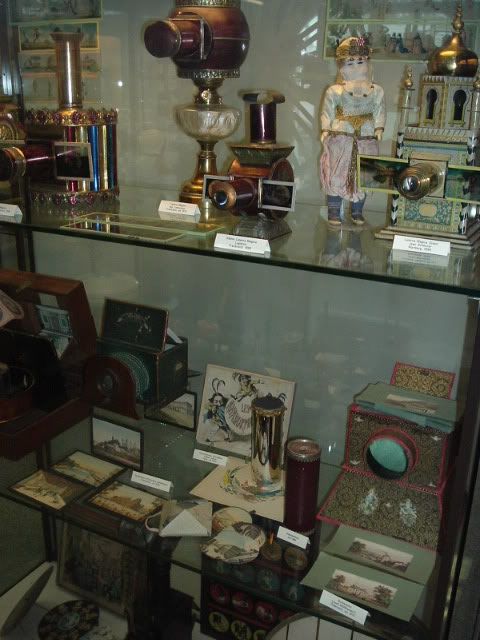 With the afternoon gone, I headed back to the hostel to pick up my bags from where I had stored them. In a couple of hours, I would be on a night train to Amsterdam, which made me wonder what I would do with my remaining time. Little did I realize that I would spend almost the whole time trying to find a place that would take credit cards so I could have dinner. I could've hit an ATM, but then I would've ended up with a pocketful of francs I wouldn't need. But, it was an adventure in Rail City, and I had a really good pizza.

When my belly was finally full, I went upstairs to the trains and settled into my seat. After a little fiddling, I found that it leaned back exceptionally far and scooted forward properly so that the person behind me wouldn't be crushed. I must say the overnight train was better than any overnight plane I've flown. As for the waking hours, I filled them writing up the adventures of the day.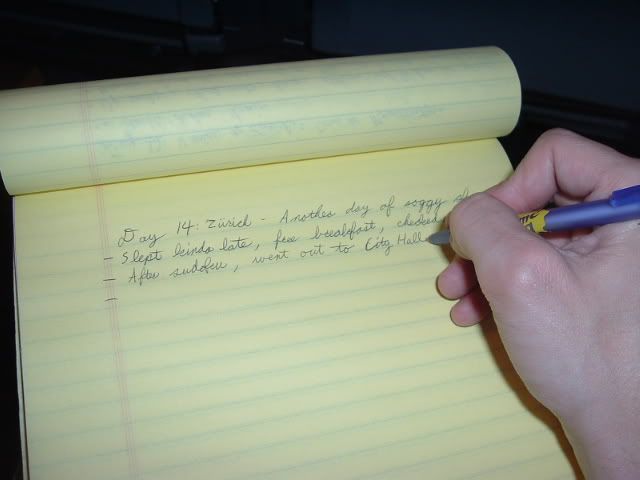 Then I dreamed of the adventures to come in the Netherlands.


Back to Jeff's Weblog